Urbane by Nature
Stonebrook is a new and vibrant community set adjacent to the rejuvenated Hanlon Park in Stones Corner, Brisbane. Featuring 90 Apartments over 9 Levels anchored by the balance between nature and urbanisation. Rekindle your spirit within the heart of Brisbane's landscape.
---
Location
10 Flora Street, Stones Corner QLD 4120
Number of Apartments
90 Apartments – over 9 Levels
Features & Facilities
Opposite the newly rejuvenated Hanlon Park, 5.21ha of open green space, with a natural flowing waterway Norman Creek (Australia's Best Park 2023)
A short stroll from the suburban flair of Stones Corner Village with a great mix of restaurants, cafés, bars and range of clothes & giftware shopping
Ground floor heated pool & gymnasium
Rooftop terrace with indoor & outdoor dining overlooking park views
Boutique apartments with beautifully appointed finishes
Relaxation zones
Resident and visitor parking
Price Range
1-4 Bedrooms – POA
Commencement & Completion
Commencing Mid 2023 – Completing Late 2024

Stonebrook is a proud UDIA certified EnviroDevelopment
Latest Construction Progress
---
A new leaf is being turned at the corner of Flora & Lincoln Street, Stones Corner. Stonebrook has arrived in the neighbourhood!
Take a quick site tour with Mike, as he runs through the latest milestones and progress of Stonebrook.
Check back again next month for more insight.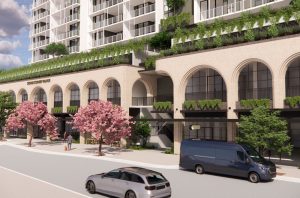 Source: Architectural rendering of proposed Stones Corner Village by Brisbane Development
---
'Stones Corner Village' proposal to revive Logan Road urban space.
Stockwell has lodged a proposal to rejuvenate 'Stones Corner Village' on the corner of Logan Road and Cleveland Street with a mixed-use complex consisting of 209 residential dwellings split over two towers and a communal podium comprising active retail and dining tenancies to the full frontage along Logan Road, including the existing Aldi supermarket tenancy to be reinstated.
Designed by MK Architecture, each tower will accommodate rooftop recreation. The proposal supports the potential to maximise the efficient use of land space, rejuvenating the streetscape, positively generating employment opportunities and creating a dynamic environment where people can live, work and shop in close proximity – overall improving the livability of the area.
Peruse the Brisbane Development article below.

Your Project Delivery Team
Trust in one umbrella – all under one roof!
Developer

Harnessing over 25 Years experience developing and building, with a 100% Project Completion Rate.

Designer

Dedicated team of experienced residential apartment designers, operating in-house.

Builder

Pioneering construction in South East Queensland for a distinguished span of over 25 Years.

Interiors

Carefully curated schemes tailored to the unique character of each development initiative.

Sellers

Exclusively represent and sell GVG's quality apartment residences.
Offering refined and elegant living
With a spotlight on simplicity and style, you can expect high-quality fixtures & finishes within all carefully crafted homes.
Connect with family and friends on the rooftop
Overlooking Hanlon Park, utilise the indoor/outdoor recreational dining or gather moments of calm and solitude by the ground floor pool & gym surrounded by curated gardens. Stonebrook can be as much or as little as you want with multi-recreational spaces!
Urbane by Nature
Appreciate the newly revitalised High Street Stones Corner precinct, a short stroll from Stonebrook, now home to a suite of services and culinary delights. Entertain the kids in the nature-themed play area, a part of 5.21ha of leafy green open space. Stones Corner has been rated highly for access to primary schools and scores strongly for retail, cafés and walkability. Be proud to call Stonebrook home.